SCOPE
20 years of intelligence expertise combined in one multi-source data analysis tool. The result: a powerful application delivering security-relevant basis for decisions – in real time. Let's make the world a little bit safer together.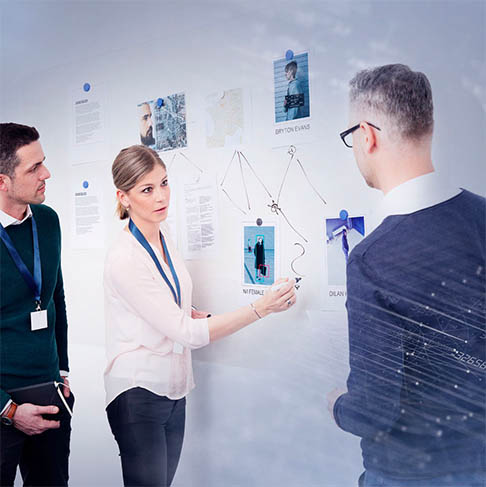 By specialists for specialists
The intelligence industry has been our domain for over two decades. This longstanding cooperation with security authorities, the military and civil intelligence services has resulted in an analysis tool that is tailored to your exact requirements.
Trust in state-of-the-art software engineering made in Germany and let's make the world a little bit safer together.
SCOPE is the intelligence analysis software that turns your big data into real insights – when and exactly how you need it.
The system enables you to collate data from a variety of data sources into security-relevant reports, ensuring you extract critical insights when it really matters.
Explore and see for yourself the Scope of our services. Contact us.

Our Products. Your Advantages.
Software Made for Your Needs:
From 'plug & play' to individual solutions – SCOPE is your highly scalable, powerful analysis tool.
Find What Makes a Difference:
Trust in 20 years of intelligence experience and know-how, made in Germany.
Cost Efficiency and Transparency:
Your costs always correspond to the current scope of services. We call this: 'Pay-As-You-Grow'
Divide & Conquer:
Share insights quickly and securely and, if desired, across teams, silos or authorities – seamlessly.
Findings in a Nutshell:
Benefit from high precision thanks to real-time connections across a wide variety of data sources resulting into the point qualified reports.
SCOPE – MULTI-SOURCE-ANALYTICS
SCOPE is perfect for analysing large amounts of data from a variety of sources.

Remain in control of the situation: react quickly and purposefully.
5 Reasons to Choose SCOPE
Future Proof
SCOPE is highly variable and can be easily adapted to your evolving needs. Open standardised interfaces ensure SCOPE is future-proof. No matter how the intelligence world evolves, we have the right solution.
Learn more
Interfaces
Seamless integration of multiple sources. Benefit from the standardised, open interface, allowing sensors to be connected in just a few simple steps using our SCOPE-compatible CIM package.
Scalability
Whether it is more users, additional sensors, additional locations or longer data retention times – SCOPE adapts to your changing needs and is scalable in all directions.
Data Fusion
SCOPE combines all data in one system. Connecting the dots and establishing relationships between data across different sources you can take the precision of your reports to the next level.
Databases
You can also easily integrate existing databases into our system. SCOPE analyses existing data and combines it with sensor data, providing you with a complete picture of any given situation.
Technology Standards
Rely upon a robust and expandable system. SCOPE is based on the latest technology standards and implements microservice architecture and open-source software.
Mass Data Analytics
SCOPE is designed to evaluate billions of events per day. Our robust and powerful software ensures precise analysis across vast amounts of data from a wide variety of sources to provide a reliable basis for critical decision-making. When it really matters.
User Optimised
SCOPE is made by specialists for specialists. Your analysts recognise this with every step of the way. From visualisation of analysis results to reporting: with SCOPE, user-friendliness and clarity are top priority.
Learn more
Visualisation
Capture relationships, trends and anomalies quickly and easily. SCOPE visualises your analysis results using interactive images, clear and user-friendly, making your work easier and more efficient.
Geo-Analysis
With SCOPE you always have an overview. Geographic information is clearly visualised in a multi-layered map displaying heat maps, tracks and track players.
Time-based Analysis
Create precise, time-based analyses. Individually adjustable timing intervals enable the analysis of different events, both in parallel over an extended period of time or individually, per time unit and location.
Reporting
Get the most important insights at a glance: SCOPE creates qualified reports based on your analysis results. Events and graphics are integrated directly for crystal clear results.
Collaborative
In a team, across silos or across systems, the seamless exchange of information is more essential than ever. With SCOPE, you can share your findings securely, quickly and easily.
Learn more
Collaboration
Share your work in a team or across systems and silos. With SCOPE, relevant contacts and decision-makers seamlessly receive your analysis results – safely, quickly and easily.
Case Management
SCOPE enables a case-based organisation of your analysis results, giving you the control to decide and nominate who has access to which individual cases.
Secure
As a German company, we feel committed to European values and as such rely exclusively on a European partner network. In addition, data sovereignty always remains with you – better safe than sorry.
Learn more
Authorisation
Not all information is intended for everyone within an organisation. From now on you can define access rights to individual assignments within the SCOPE software. Benefit from our sophisticated group and role concept and make your data even more secure.
Data Sovereignty
The sovereignty over your data always remains with you. INNO never has access to your system or your data – without exception!
Flexible
Benefit from our 'Pay-As-You-Grow' approach. You pay for the service that you use and nothing more, with our truly transparent sales model.
Learn more
Price Transparency
"Pay As You Grow"– Benefit from our scalable pricing model with no hidden costs which guarantees you always have an overview of your investment with us.
SCOPE BOX – Full Power. Fast Delivery.
SCOPE BOX enables you to get started with Intelligence Analytics by INNO quickly and easily – without having to forego functionality.
When Is SCOPE BOX Right for Me?
Short-Term Availability
With SCOPE BOX you receive a ready to use software-hardware package with full-power meta data analytics combined with the full scope of services within just 8 weeks of ordering.
Ideal For Small Teams
SCOPE BOX enables you to benefit from the complete functionalities of SCOPE for a limited number of users. Ideal for working in smaller teams of up to 3 users.
Inexpensive
Get started quickly and inexpensively in the world of Intelligence Analytics by INNO.
Talk to us to find out more.
Modular Add Ons, Services and Support
Large selection. Maximum flexibility.
Do you need more support in the form of training, an extended service or your SCOPE BOX needs more interfaces? Contact us. We would be happy to advise you and introduce you to our broad portfolio of add-ons, services and support. With our broad range of modular add-on services cater for your individual needs.